Kapolri Jenderal Pol Listyo Sigit Prabowo memutasi Kapolda Jawa Timur (Jatim) Irjen Pol Nicp Afinta menjadi Staf Ahli Bidang Sosial Budaya (Sahli Sosbud) Kapolri.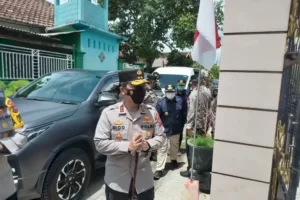 Mutasi Irjen Nico tertuang dalam Surat Telegram Kapolri dengan Nomor: ST/2134/X/KEP/2022 yang diterbitkan Senin, tanggal 10 Oktober.
Kepala Divisi Humas Polri Irjen Pol Dedi Prasetyo membenarkan adanya mutasi sejumlah Perwira Tinggi (Pati) Polri tersebut, termasuk Irjen Pol Nico Afinta.
"Ya betul, tour of duty and tour area, mutasi adalah hal yang alamiah di organisasi dalam rangka promosi dan meningkatkan kinerja organisasi," kata Dedi.
Selain Irjen Nico, Kapolri memutasi empat Pati Polri lainnya, yakni Irjen Pol Teddy Minahasa Putra dari jabatan Kapolda Sumatera Barat menjadi Kapolda Jawa Timur.
Kemudian, posisi Kapolda Sumatera Barat diisi oleh Irjen Pol Rusdi Hartono yang sebelumnya menjabat sebagai Widyaiswara Utama Sespim Lemdiklat Polri.
Irjen Rusdi Hartono juga pernah menjabat sebagai Kepala Biro Penerangan Masyarakat (Karopenmas) Divisi Humas Polri.
Kapolri juga memutasi Direktur Tindak Pidana Siber (Dittipidsiber) Bareskrim Polri Brigjen Pol Asep Edi Suheri sebagai Wakil Kabareskrim Polri.
Lalu, memutasi Kombes Pol Adi Vivid Agustiadi yang sebelumnya penugasan sebagai ajudan presiden, diangkat dalam jabatan sebagai Dittipidsiber Bareskrim Polri.